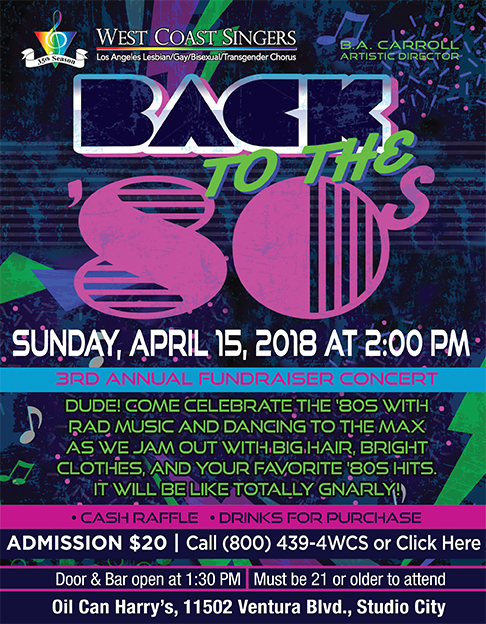 West Coast Singers is headed back to the bar for our 3rd annual fundraiser!
Dude! Come celebrate the '80s with rad music and dancing to the max as we jam out with big hair, bright clothes, and your favorite '80s hits. It will be like totally gnarly!
Live Performance by WCS, small groups and solo acts to round out the show.
Drinks for Purchase   •   Raffle (where you could win $300 cash)   •  Loads of fun!
After we are finished singing, stay around and enjoy your time with the choir because Oil Can Harry's will be open until 5:00 PM!
Doors will open at 1:30 PM and the show will begin at 2:00 PM.
There will be a full bar available to purchase your favorite '80s cocktails and since it is a bar, all attendees must be 21+ to attend.
We hope to see you there! Click here for pre-sale tickets.
Sunday, April 15, 2018
2:00 PM – 5:00 PM
Many thanks to Oil Can Harry's for again generously sharing their space with us to hold this concert.
West Coast Singers is the third oldest LGBTQ mixed chorus in the nation. This is part of our 35th season and it will give you a glimpse of what's in store for our Spring concert on Saturday, June 2. Funds raised from this show will support our scholarships for chorus members, and help send us to the 2020 GALA (Gay and Lesbian Association) Festival of LGBTQ choruses in Minneapolis, MN.