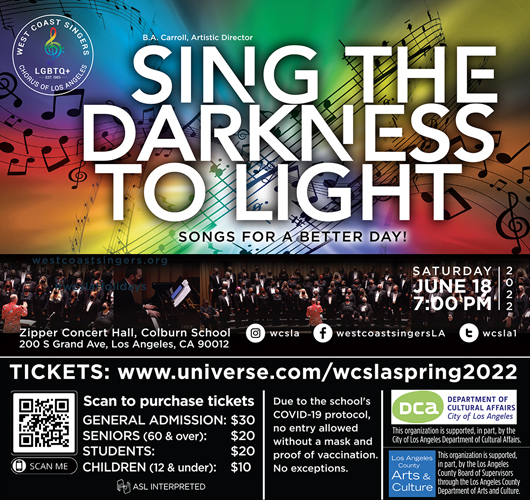 We are excited to present Sing the Darkness to Light! concert as the close of our 39th season. This concert will feature songs for a better, brighter day. We will take you on a journey as we transform from darker times to brighter ones! We are excited to share these beautiful new arrangements, and even a nod to a more classical piece that will leave you feeling inspired. This is our second concert in Zipper Hall, at the Colburn School, with such a beautiful and resonate space, you will not want to miss it!
Although we are unable to host our regular pre and post reception, we still hope to meet, greet, and catch-up with you in the lobby after the concert! And we hope you know that we can't wait till we can return to our regular reception as soon as possible.
Please keep an eye on our website, subscribe to our email news blast, or follow us on social media (instagram, facebook, and twitter) to receive all the details about this performance and future performances!