We are excited to be back and coming into your homes with our 2nd virtual performance, to close out our 38th season! We might not be able to be in person with you but I know this concerts message will speak to you. We could not be prouder to have had the time needed to bring last spring's cancelled concert to you. Centered around the central theme of INSPIRE! Courage, Hope, & Change!, the focus and message of our 3 part commissioned pieces. We might be a year later, but after all the challenges and struggles we lived through last year, I can't think of a more powerful concert to share. This concert still resonates and is so timely, speaking to many of the feelings we are still experiencing.  In our first commissioned piece, "Find Your Courage," the lyrics say "Find the strength that lies within your heart to make it to that day!". These themes resound loud and clear with many of us in these current times and we can't wait to share these and more songs with you!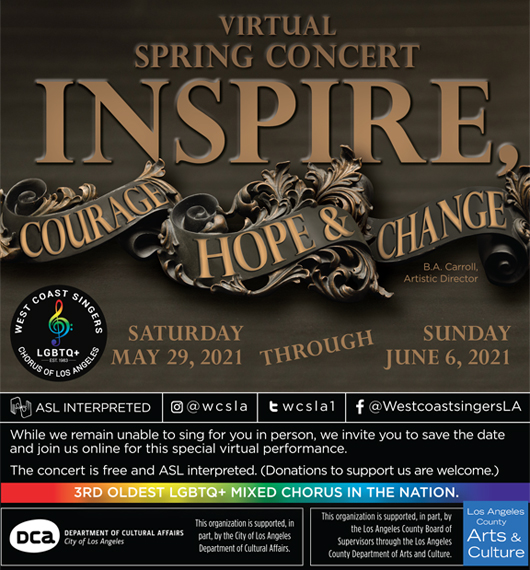 This concert is again FREE for one and all, just as we did on our holiday concert. If you would consider making a donation we would, of course, be thrilled but is not required. We could not exist without our generous donors and sponsors. Donations help us continue to make inspiring music, build community, and bring you more productions like this. You can on this website, under the DONATE tab, or through Venmo: @WCSla or through the mail, West Coast Singers, PO Box 46825, West Hollywood, CA 90046
If you haven't had a chance to see what we've done this past year, visit our YouTube channel to view the virtual performances of our second commissioned piece, "Hope Will Lead Me Through Another Day", and "Silent Night" from our 2020 holiday concert.
On behalf of the chorus and the Board of Directors, we send you our continued love and hope for a healthy and safe 2021! See you again very soon.
Please keep an eye on this website, subscribe to our email news blast, or follow us on social media (instagram, facebook, and twitter) to receive all the details about this performance and future performances!