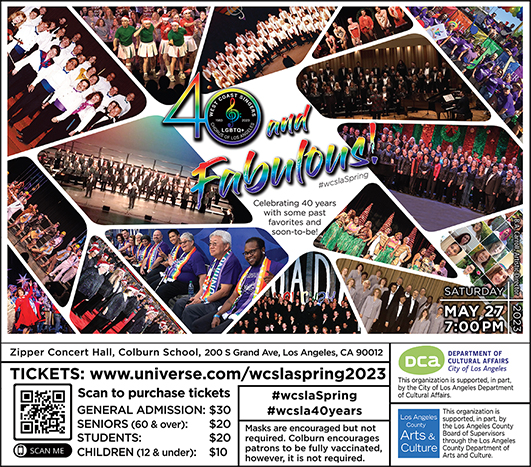 It's time to venture from far and wide and join us, Memorial holiday weekend, to celebrate our 40 years! We held together through the panic and stress of the pandemic and, it could be said, we came out stronger than ever! We are excited to hear our united voices ring out and resonate in this amazing concert hall!
Focused on our rich and vast history, we have dipped into our deep library of songs and are revisiting some members' favorites. In addition to those, we have a really fun Louis Prima Jazz Swing number, a Ukrainian song that has a potent declaration of solidarity with the people of Ukraine, and one of our more recently commissioned pieces. Not to brag or boast, but it is really going to be a beautiful concert and we hope you can be a part of it!
The commitment, dedication, and perseverance it takes to keep an organization like ours still going strong for 40 years is something to be proud of and never taken for granted. With that in mind, we want to party together with you once the concert is finished. We are going to have an "unofficial" reception after the concert, hopefully close to the concert hall, and hope you continue to celebrate the night with us!
As part of our 40th anniversary celebration, we're inviting you to join us on stage to sing a couple of songs–"In Remembrance" by Jeffery L. Ames and "My Wish for You" by Mary Kay Beall and John Carter. We ask and hope that you participate in at least one of our virtual Zoom rehearsals to prepare for the concert. Don't worry, you don't have to attend the full rehearsal – just the times dedicated to learning the two pieces. You'll also have access to the practice tracks to rehearse on your own. Please click HERE and let us know that you'd like to participate and we'll send you all the information; sheet music, practice tracks, and the rehearsal Zoom link. If you have any questions, please feel free to reach out to Sanie Andres by calling or texting 661-917-0090.
This passionate and committed community chorus sings to our fullest potential in each performance, producing music of the highest possible caliber every time we take the stage, to fulfill our mission statement–"Our quality musicianship, engaging choral performances, and inclusive environment unite LGBTQ and Ally singers to celebrate diversity, inspire equality, and build a community of acceptance."
click here for tickets
Please keep an eye on our website, subscribe to our email news blast, or follow us on social media (instagram, facebook, and twitter) to receive all the details about this performance, outreach, pride event, and future performances!