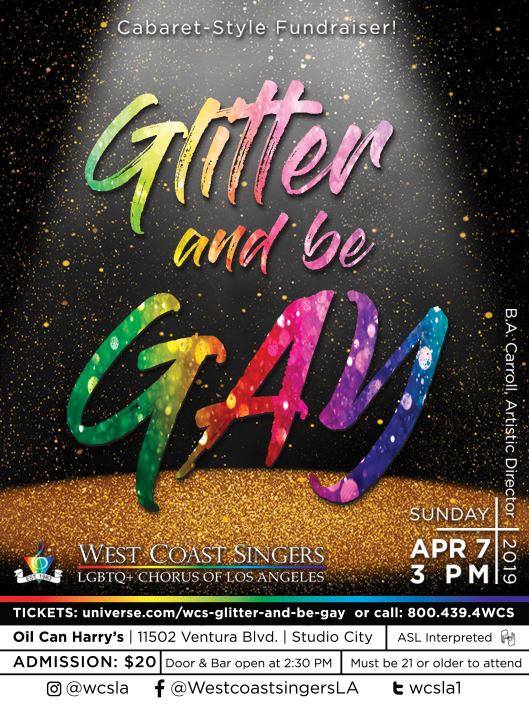 West Coast Singers is headed back to the Oil Can Harry's for our 4th annual fundraiser!
So get your glitter on, bring out your dancing shoes, and open your hearts to feel the love! There will be live performances by the WCS, with small groups and solo acts to round out the show.
Full bar available to purchase your favorite cocktails, Heads and Tails raffle (where you could win $300 cash), and, as always, loads of fun!
After we are finished singing, stay around and enjoy your time with the choir because Oil Can Harry's will be open until 7:00 PM!
Doors will open at 2:30 PM and the show will begin at 3:00 PM.
We hope to see you there! Click here for pre-sale tickets.
Sunday, April 7, 2019
3:00 PM – 7:00 PM
Many thanks, again, too Oil Can Harry's for generously sharing their space with us to hold this concert and, since it is a bar, all attendees must be 21+ to attend.
West Coast Singers is the third oldest LGBTQ mixed chorus in the nation. This is part of our 36th season and it will give you a glimpse of what's in store for our Spring concert, June 1, 2019. Funds raised from this show will support our scholarships for chorus members.